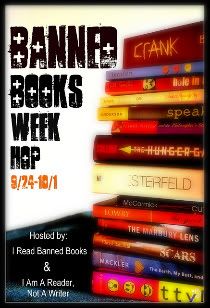 First off I want to wish everyone out there a Happy Banned Books Week!
If you would've asked me a few months ago what banned books were, I would've probably guessed that they were books that aren't on the market anymore. Books that were somehow banned from being printed or something.
I really had no clue what banned books were until I kept seeing stuff about banned books week and decided to look into it once and for all.
Basically, for those of you out there that are a bit clueless about it like I was, banned books are any books that have been banned from certain establishments at one point or another. Usually these are libraries or schools.
I was surprised to see a lot of popular books and even some of my favorite books on the list. You can see what books have been banned in the past here.
The whole idea of having a banned book week isn't necessarily to huff and puff about doing something that is wrong. It's more about embracing our freedoms because the freedom to read what we want and to say/write what we want is a freedom that is constantly being tested and we are in danger of losing certain freedoms every time a person or group succeeds in banning a book.
I think I read this on the actual ALA website, or maybe somewhere else, I'm not sure. But, I completely agree with it. There is nothing wrong with not reading certain books, not agreeing with certain books, and restricting our own children from reading certain books. What becomes the problem is when people force that belief onto others. Other people have no right to say what you allow your children to read or what you are allowed to read yourself.
So with Banned Books Week in mind, I'm giving you guys the CHOICE of what book you want to win from Book Depository (up to $10). I know this is the giveaway I usually do for Giveaway Hops. But, I think it's important to note that having a choice is a very valuable thing and a freedom that can be taken away from us if we don't fight for it on a daily basis. So when you go ahead and enter to win for whatever book you want (up to $10), think about how much we take these kinds of choices for granted and how important it is for us to keep fighting to make our own decisions about what we want to read.
And since this is Banned Books week after all, here are just a few popular books and series' you could choose that have been banned or challenged in the past. You don't have to choose one of these below, but all of the books below you could choose and have been challenged or banned at one point or another.
This giveaway is part of the Banned Books Week Giveaway Hop 2011, hosted by I Am A Reader, Not A Writer, where you can enter to win lots of fabulous giveaways from blogs that are participating. To see all the blogs participating, click here.
Giveaway Rules
You must be a Google Friend Connect follower.
One winner will be chosen by Rafflecopter.
The book you choose from the Book Depository can have a value up to (and not exceeding) $10.
Open

internationally

(wherever Book Depository ships).
Open between September 24-October 1. Form closes at 12:01am on October 2nd.
Use the Rafflecopter form below to enter. Just click "I Did This" after you've done each step.
The winner will be notified by email and can choose their prize then.
Giveaway Entry Form